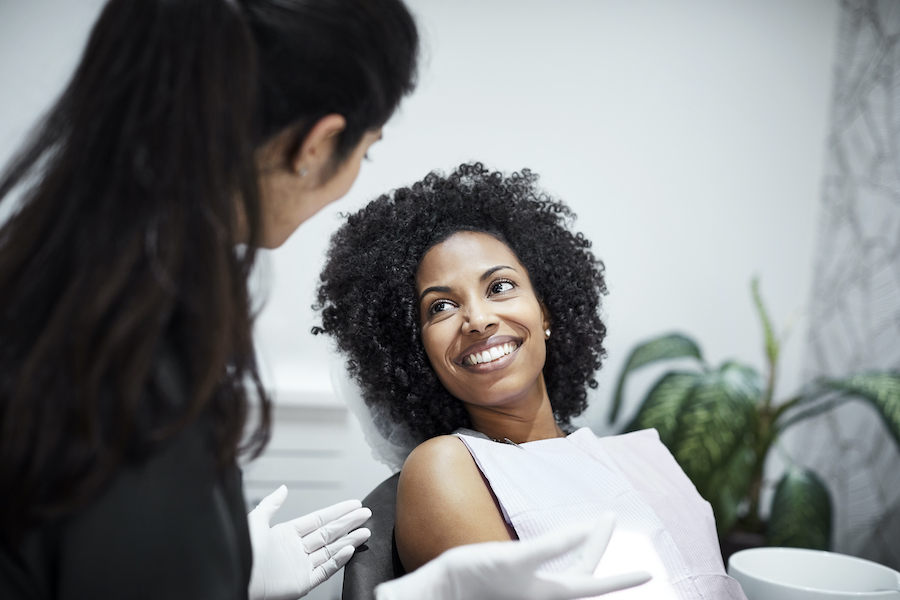 Talking to your dentist is one of the best ways to understand how you can uplevel your oral healthcare routine. Because you only see your dental team twice a year, it's beneficial to keep a list of questions on a notepad or your phone so you don't forget to ask them at your next checkup.
For example, here are five questions we suggest asking during your visit at the dentist:
"What are your favorite dental products?"

Your dentist and hygienist can recommend specific products that will help you maintain your oral health. These can include soft-bristled manual and electric toothbrushes, string floss, water flossers, interdental brushes, floss picks, mouthwash, and more. Their expert recommendations will be influenced by their personal and clinical experience, as well as current scientific evidence.

"Can I improve my brushing technique?"

There's a proper brushing technique that involves gently using small, brisk circles (not a vigorous sawing motion) twice a day for two minutes each time. Your dentist and hygienist can tell if you're brushing your teeth too hard or not long enough, and how you can improve.

"Am I flossing enough?"

Don't lie when your hygienist asks how often you floss. Gums that bleed throughout your cleaning and a buildup of plaque and food particles between your teeth and under your gums will show that you need to floss more frequently. Otherwise, your risk of dental disease increases. Your hygienist can show you proper flossing technique.

"Why does this area hurt?"

Let your dentist know if you have any mouth sores that won't heal or if you're experiencing any pain in your mouth, particularly when you brush, floss, or eat. Identifying symptomatic areas will guide your dentist to investigate and treat any abnormalities.

"What other dental treatments should I consider?"

There are many ways your dentist can help improve the appearance and function of your smile. Apart from your regular preventive care, you may benefit from the cosmetic services or restorative treatments available at your dental office.
Affordable, Comprehensive Dentistry in Odenton, MD
At True Dental, we provide a range of treatments that we specifically tailor to our individual patients. We also offer a variety of payment options, including CareCredit financing and our True Dental Savers Plan. So if you're due for a dental examination, please contact us to schedule an appointment. We look forward to your visit!