Orofacial Myofunctional Therapy in Odenton, MD
---
When you think of a trip to the dentist, the term "orofacial myofunctional disorder" might not spring to mind right away. However, at True Dental, we take a truly comprehensive approach to maintaining your well being, and sometimes that means diving a little bit deeper past the scope of normal oral hygiene.
While you might not recognize the name, orofacial myofunctional disorder can lead to severe health problems if left untreated. Here we've compiled some FAQs so you can better understand what orofacial myofunctional disorder is, how it can affect your life, and how you can treat it.
FAQs About Orofacial Myofunctional Disorder
---
What is orofacial myofunctional disorder?
Orofacial myofunctional disorder, or OMD, is much better understood when referred to as "tongue thrust," which is a condition where a patient will push their tongue against the back of their teeth. While this may sound harmless enough, OMD can cause a variety of issues with eating, speaking, and even the alignment of your teeth. Many people go undiagnosed and end up spending a lot of money down the road on braces or speech therapy. At True Dental, our highly skilled team can help stop these harmful, long-term effects in their tracks.
What causes a tongue thrust?
Tongue thrust can be caused by a variety of factors. Whether your OMD is caused by genetics, allergies, or is a result of childhood habits such as sucking your thumb, we'll give you the tools to correct your tongue thrusting.
How do you fix a tongue thrust?
Through therapy, you can overcome your OMD and essentially "relearn" how to use your tongue, how to rest your mouth when you're not using it, and how to properly chew and speak without relapsing into tongue thrusting habits. If your OMD is allergy related, getting medication to reduce your allergy symptoms will go a long way in getting your tongue back to its normal routine.
Is my snoring causing OMD?
Your OMD could result in irregular airflow and blocked passageways while sleeping. If left untreated, this could lead to more serious conditions such as sleep apnea and other sleep disorders.

Do these symptoms sound familiar? Call today to schedule a consultation.
Contact Us »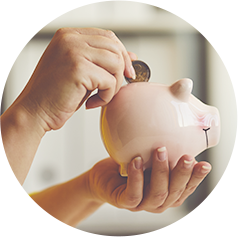 Affordable Orofacial Myofunctional Therapy
---
We strive to do our best to help patients get the care they need and deserve without breaking the bank. We also accept CareCredit® patient financing that allows you to break up your treatment costs into manageable monthly payments. If you're uninsured or underinsured, we have an in-house savings plan to help you save.