Advanced Cosmetic Dentistry in Odenton
---
In addition to our preventive and restorative care, our dentist's office offers cosmetic dentistry that let us help improve your smile in a variety of ways. From whitening to straightening to total smile makeovers, our team can help you get the smile you've always dreamed of.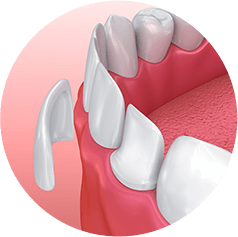 Porcelain Veneers
---
Do you have chips or cracks you want to cover up? What about stains that whitening products haven't been able to fix? Are your teeth gapped or oddly shaped? We have a solution that can give you a smile you'll truly love: porcelain veneers! Veneers are thin shells of porcelain crafted by hand that, when bonded to the front side of teeth, can change the look of your smile in almost any way you can imagine.
When you come in for a veneers consultation, our team will go over your goals for your smile and help you design your dream smile. Our dental lab will use that design to create your veneers. Once they're ready, you'll come back in to have the veneers bonded to your teeth. When you leave our office, it will be with a smile that you love!
For a more cost-effective solution, we also offer Lumineers®, which require less prep work than traditional veneers.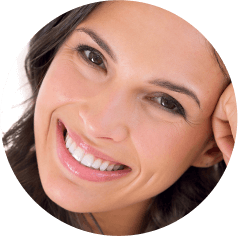 Professional Teeth Whitening
---
True Dental offers two great ways to whiten your teeth: one-visit whitening in our office and custom take-home whitening. With the first option, you can get a brighter smile by spending only about an hour in the dental chair. If you prefer to whiten on your own time, opt for our take-home trays. We'll make molds of your teeth and create your very own custom whitening trays to use with professional-strength whitening gel. Our gel provides better results than most over-the-counter whitening gels, so you can take your smile from dull to dazzling in no time.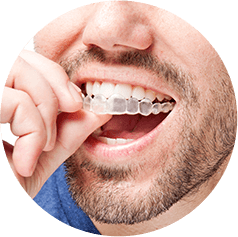 ---
Think of Invisalign® and MTM® as giving you a clear path to a straighter smile. If you have crowded, gapped, or misaligned teeth but don't want to spend years in metal braces, come in for an evaluation to see if our clear aligner options are right for you.
How Clear Aligners Works
Invisalign and MTM use a series of clear aligners to gently and gradually move your teeth into more ideal positions. We start by designing your dream smile. Using this new look and a mold of your teeth, the lab creates your first few sets of aligner trays and sends them to us. Wear your first set of aligner trays for at least 22 hours a day for about two weeks, and then switch to the next set of trays. You'll come into our office every 4-6 weeks to check in with us on your progress and to get your next sets of aligners. As you progress through the sets, you'll notice your smile getting straighter and straighter. At the end of your treatment, you'll have a beautiful new smile.
Benefits of Clear Aligner Orthodontics
Clear trays that are barely noticeable
Smooth plastic material that doesn't cut or irritate cheeks and gums
Removable aligners so you can eat, drink, brush and floss like normal
Fewer check-in appointments compared to metal braces
Short average treatment time – only about a year
Schedule a Consultation
---
You may not associate BOTOX or dermal fillers with the dentist, but they can actually be used to treat a range of issues including smoothing fine lines and wrinkles, reducing facial pain from TMJ/TMD, and limiting nighttime teeth grinding and clenching (bruxism). Dr. Shin is certified to administer BOTOX and has extensive experience and training in facial structure and aesthetics. Questions? Contact our office to learn more about what BOTOX and dermal fillers can do for you!
Juvederm® Dermal Filler Before & After Photos