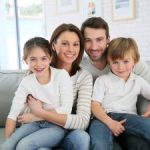 True Dental loves families. Fall is a time for fun, family and festivities. The memories your family makes during this time of year fill your senses with memories that will last a lifetime. The feeling of the cooler fall air surrounds you. The scents of pumpkins, cinnamon and harvested cornfields give your nose a delightful warm smell. The colors of fall offer your eyes a backdrop of beauty for every outdoor adventure that you do this fall. Why not add another family memory to your fall traditions list? Family block appointments are a fun way to build a tradition of togetherness around a common purpose of dental health. When your entire family is focused on a common purpose, it drives your purpose deeper into the close-knit family values that you hold to. During family block appointment times, each member of your family is seen during a block of time. There are many benefits to this type of scheduling:
No need to make multiple trips back and forth to the dentist for each member of your family. Each member of your family is seen during a designated block of time that is set apart for your family.
Each member of your family can help the others. If the dentist is treating one member of your family, the other members can help encourage the others. Each member is there to be the biggest cheerleader for the other members.
You get to model good dental habits for your kids. When your children see your comfort with the dentist and the treatments, it will offer them a sense of comfort, knowing that, "If mom can do it, so can I."
Call True Dental today to
book your family block dental appointment
today.
Posted on behalf of True Dental