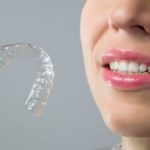 Dr. Shin at True Dental in Odenton, Maryland offers the revolutionary option of straightening your teeth using Invisalign. Most patients are more familiar with the traditional tooth adjustment method of metal braces. Metal braces are still a good option for people, however
Invisalign
offers similar results with great benefits during the adjustment process. Here are three common questions we typically hear.
"What is Invisalign?"
Invisalign is a series of custom-fitted clear aligners designed to correct misaligned teeth. The aligner trays are adjusted every 4 to 6 weeks to keep the process moving along gently and effectively.
"Am I eligible for Invisalign?"
Most likely you are eligible for Invisalign. Invisalign is effective in treating gapped, crowded, overbite, underbite and crossbite. Older teens and adults are great candidates for Invisalign, because they enjoy the fact that the clear aligner trays are virtually unnoticeable. Maturity also helps with maintaining the care of the trays. However, there are more severe circumstances that may prevent you from utilizing them.
"Why is Invisalign a better option for me than braces?"
Invisalign's clear aligner trays go with any outfit that you're wearing. With braces, there are many restricted foods. With Invisalign, you remove your trays and enjoy whatever foods you'd like. Cleaning your teeth is also easier because you don't have to navigate around braces to reach every area. With Invisalign, you remove the trays, clean your teeth, and replace the trays back in your mouth. If you're interested to know if Invisalign is right for you, call True Dental today and schedule your consultation. We'd love to get you on the road to a brilliant smile.
Posted on behalf of True Dental