Dentures in Odenton
---
When you're missing teeth, you often find yourself missing out on so much that life has to offer: smiling with confidence, talking with easing, and eating your favorite foods, just to name a few things. At True Dental, our team offers full and partial dentures that fit comfortably and look great. This tried-and-true solution to missing teeth can help you get back to living a full life.

A New Level of Comfort
---
Today's dentures are more comfortable than ever before thanks to improvements in materials and the manufacturing process. We're now able to take better impressions of your mouth, which produces better-fitting dentures. The creation and fitting process for a set of full dentures takes approximately four appointments, but we think you'll see, once your new dentures are ready and fitted, that it was all worth it in the end.
To improve comfort even further, we're also able to stabilize dentures even further using dental implants. You'll start by having implants strategically placed along your jaw. Then, our team will drill holes into your existing denture that match the placement of the implants, or we'll create a new denture for you with these holes. Your denture snaps into place on top of ball joints on the implant, so you don't need to mess with adhesives anymore to keep your denture secure. Want to learn more? Give us a call or schedule a consultation!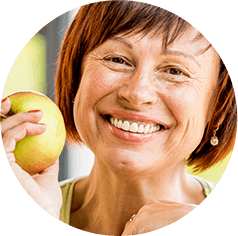 Full Dentures
---
For people missing most or all teeth in an arch, we often recommend a full denture, which replaces all teeth. With the upper arch, the false teeth are attached to a full plate that matches the color of the gums, while on the lower arch, they're attached to a U-shaped appliance that sits on the gums. Full dentures fit well and give you the ability to eat all your favorite foods with ease once again.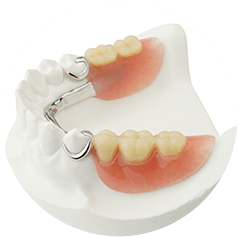 Partial Dentures
---
If you're missing a few teeth along an arch, but still have some healthy teeth remaining, a partial denture may be a better option for you. This option fits much like a full denture in that it's attached to a plastic, gum-colored base that sits on a metal framework. Partial dentures can be made for the top or bottom arch.
Affordable Dentures in Odenton
---
Our Odenton dental office is dedicated to providing our community with affordable care, and that includes dentures. When you come in for a consultation, you'll also meet with our financial coordinator to go over our estimate for your out-of-pocket costs. Our office has a number of flexible financial options to help you get a beautiful, healthy, fully functioning smile once again.
Schedule a Consultation